Engage 2017: Discover the world of mobile loyalty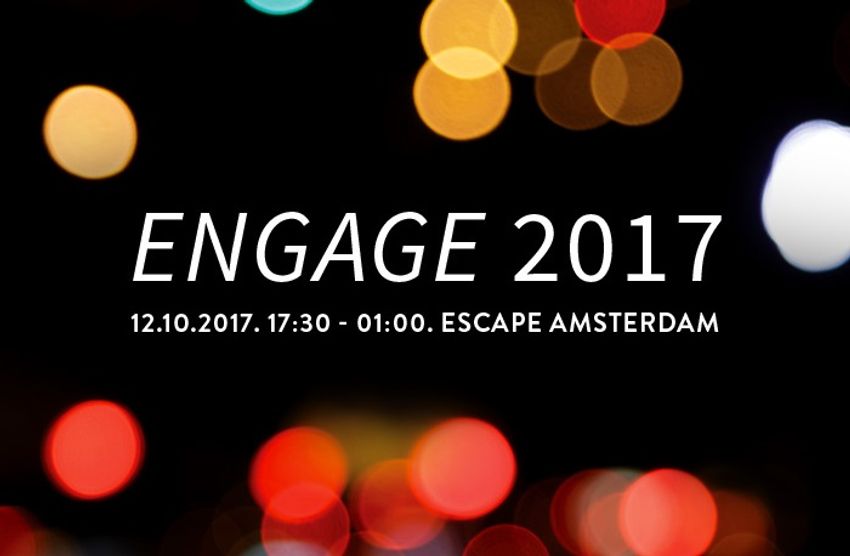 ENGAGE
OCT-12-2017 | 17:30-01:00 | ESCAPE AMSTERDAM
Discover the world of mobile loyalty
With mobile on the rise, it is time to take a closer look. This is your chance to hear experts share their lessons learned and find out how they might apply to your business.
Mobile first, mobile last
Everybody is aware of the influence of mobile on the customer journey. But did you know that over half of web traffic now comes from mobile? Last year, the UK for instance showed a 247% increase in mobile transactions as percentage of all in store transactions.
We dig up data, compare cases and show you not only what's currently happening but also what to do next. Whether you are new to the mobile market or consider yourself a seasoned professional: you'll be inspired to leap into the future!
ENGAGE, the leading Dutch loyalty management event
For the 8th consecutive year, hundreds of marketers will flock to Amsterdam's ESCAPE to join the country's leading loyalty management event. Trends, innovations and relevant cases will be shared and discussed. This year's edition will focus on mobile loyalty.
ENGAGE is known for its combination of ground-breaking pioneers and seasoned professionals. This year's edition will prove no exception as moderator Ronnie Overgoor takes us deep into the world of mobile loyalty with a line-up of distinguished experts.
FREE TICKETS
Book your personal tickets here. Be inspired by the speakers, intrigued by the cases and energised by the after party in Escape Amsterdam! Feel free to introduce a colleague to ENGAGE.
Organised by m―wise and this years partner Mobile Strategy.